A Heartbreaking Tale, But A Glorious Story: Chapin Varsity Boys Soccer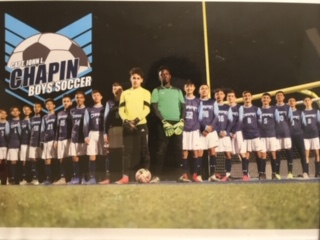 March 29th, 2019. Chapin is facing off against Del Valle for the Bi-District title. The winner advances to regional. The loser goes home. As we already know, the Huskies are coming into this game already having made history at Chapin, making themselves and all fans of their team alike very proud. However, this is not to say the team cannot go further, and the ambition is definitely present in the team. With that, the boys went into the match with high moral and equal motivation to their opponents.
The game got off to the best possible start for the Huskies. But the end of the first half, goals by Irvin Duran and Ricardo Estrada had earned the Huskies a two-goal lead heading into halftime. Good play by the boys during the first half had caught Del Valle by surprise, and the boys took advantage of that and capitalized on their chances.
However, the second half was a much different story. Del Valle rallied at half time and came out fighting, overturning the deficit and completing a total turnaround on the scoreline, with the game ending 3-2. At the final whistle, there was nothing but absolute scenes, with the Del Valle Players joyously lifting the trophy, leaving the Huskies truly heartbroken.
However, there is still pride to be had in the Chapin Huskies. They proved to El Paso this season they can hold their own against the top teams in the city, and it sets a precedent for years to come. The season might be over, but a legacy is just beginning.