Solo and Ensemble 2019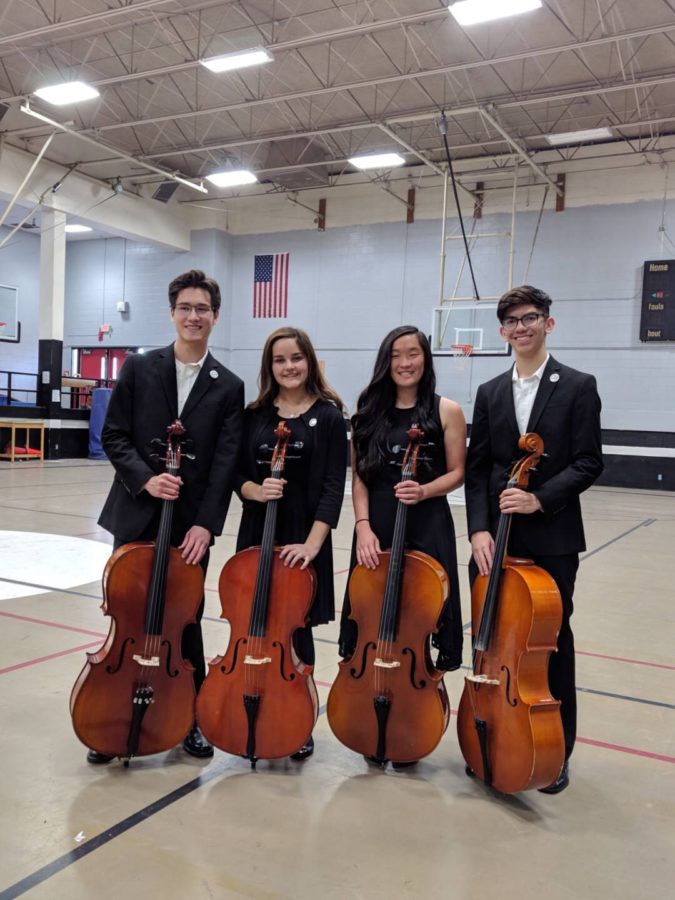 The gym is full of students tuning their instruments, rosining their bows, singing, adjusting their mouthpieces, and practicing their pieces for the last time before they finally present the music they have been working on for months to a judge. These students are the hard-working musicians who have dedicated their time and energy for Solo and Ensemble, the event that recently took place on February second. For non-musicians, this event might sound strange, but it is very popular and recognizable in the music world. Perhaps, you might have even heard of it recently from a friend who was ranting about their stress and excitement to finally get to the big day where they can present what they have been working towards.
Solo and Ensemble is an event that is yearly held for orchestra, band, and choir students in which students present a piece that they have learned by themselves or from the help of a private teacher. These students can either choose a solo, which they will perform alone, or an ensemble in which they can participate with other individuals, or even both. For orchestra, the presentations vary, you might see a cello quartet or a violin duet, or even a quintet filled with all the different instruments. These students then present the pieces they have learned to a judge in which they will receive a score from 1-5 (1 being the highest and 5 being the lowest.) A solo might qualify for state if they perform a class one (class one being the most challenging music) piece from memory as well as an ensemble, however, the ensemble does not have to play it from memory.
This event is certainly challenging and not devoid of stress, but the Huskies rose to the occasion and represented Chapin very honorably this year, as they always do.  Orchestra held a record number of students with 6 solos and 4 ensembles (24 students in total) qualifying for state, breaking last year's record. Making it to state is no easy task as these students input many hours of their time into making the music a beautiful piece. Kiara Kwan, a junior cellist, who qualified for state, said that "this year's solo and ensemble was an absolute rollercoaster." She emphasized how proud and happy she was of her ensemble, but that they couldn't have gotten to this point without the "hours of practicing on the piece and the hard work that was poured into the performance." Jacob Almanza, a senior violinist said that walking into the room with the judge was "one of the most nerve-racking moments" but that no matter the outcome what really mattered was "the progress we made as an ensemble." Nevertheless, the work and effort they input into their performance certainly paid off as they also made it to state and Almanza was beyond ecstatic with the results, saying that "a huge wave of emotions came over us."
This is not the end, for those that made it to state, will perform their pieces again at Austin, Texas in the following months. We certainly cannot wait for these students to embrace their talents once again and to continue making Chapin High School proud. Congrats to everyone who performed and made it to state! Let's go Huskies!