Was the Hype To Much?: Chapin vs Andress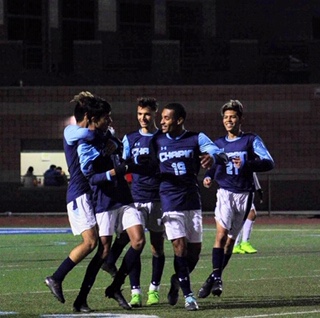 Hang on for a minute...we're trying to find some more stories you might like.
Varsity goalkeeper Tashie Mack is no stranger to competitiveness. With a passionate heart yearning for the best he can be, the 18 year old senior at Chapin High School approached the annual Chapin vs Andress Derby with emotion and desire, telling me over text "". Obviously, on the Andress side of things, the tradition of pre-game trash talk was to be expected, with one of the opposing players snap chatting "#killthehype, we gonna show em what's up real quick."  Chapin's varsity coach sent this picture out to the varsity remind, and the motivation showed on the field, with Chapin thrashing Andress 4 – 0 this past Friday night. Goals from Ricardo Estrada, Irvan Duran, and Andrew Rehudul  capped off a phenomenal night for the Huskies, who displayed a dominating performance over the Eagles. With this win, the Huskies are undefeated in district, and sit top of the table. Overall, a very good night for Chapin High School, and it is safe to say the team we are seeing this year is nothing like we've seen for a long time.