Chalk the Block 2018
Every year in the month of October, an art festival called Chalk The Block is hosted downtown, and this year was no exception. On October 12 through the 14th, Chalk the Block took place around the Art District of Downtown El Paso. Behind the Coffee Box, a locally owned cafe, the art vendors took shop, a large stage to their right, where many local musicians and DJs went to perform.
This year headlining band was Tijuana Panthers, coming from California to perform! Some of their music includes songs like Creature, Nobo, and Redheaded Girl.
The chalk art competition took place near the Chihuahua's Stadium, a walkway of art done by students, showcase artists, and up and coming artists, a winner chosen from each category.
Food trucks were parked nearby, with numerous showcase pieces including Impulse, a piece by Creation and execution: Lateral Office and CS Design from Montreal Canada, and Paradox Pyramid, by Laura Turon.
In front of the Plaza, an art exhibit by the local artist was showcased. Large pieces of chalk, the ground covered in dust, and children rolling them around. The piece is by Angel Calabras, and he called it Chalk It Out.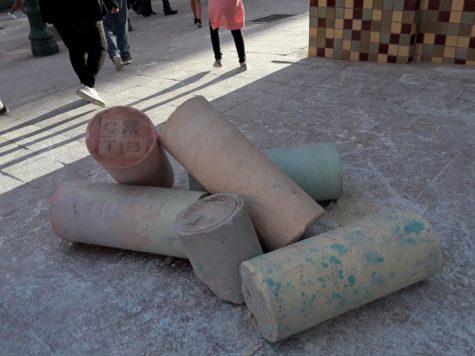 Chalk The Block began back in 2008, where it was a one day competition with only about twelve artists competing. It is now a large, three-day event, and is one of the largest Premiere Events in El Paso.
Make sure to keep updated on next years event, where you can chalk it up, eat great food, and support your local artists!