Opinion: New U.S. Steel and Aluminum Tariffs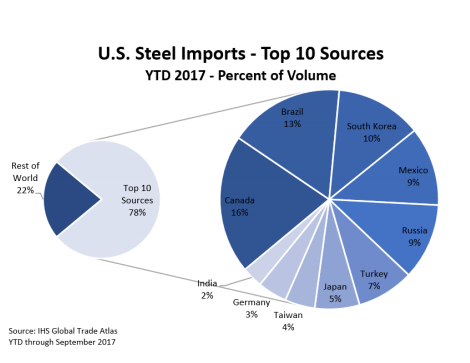 Gabrielle Franklin
March 24, 2018
Many materials in our daily lives are made of aluminum and steel. For those who have caught up with the national news lately now what I'm hinting at. Yes, I am referring to Trump's new tariff on Steel and Aluminum industries that he announced through Twitter with what I believe this will come with negative implications for America.
According to the United States Steel Import Report from December 2017, the United States imports 78% of its consumed aluminum from Canada, Brazil, South Korea, Mexico, Russia, Turkey, Japan, Taiwan, Germany and India. Furthermore, there are already 149 trade remedies against importing steel. How could Trump's unspecified plan really benefit the United States if all these regulations are already in place?
Even if this tariff does prove effective, it may not necessarily stop imports. Again, according to the United States Steel Import Report, there has been a 219% increase in steel import. As a consumer society supply must meet demand, and if the cost of making products goes up so will the cost of the product to the consumer. Sodas, steel framework, and so on used in our everyday lives will likely become more expensive with this new tariff. The availability of these valuable materials for improving America's infrastructure will likely become less obtainable and more expensive. Moreover, two of the main providers, Canada and Mexico, are having strained relations with the United States due to Trump's plan for a "border wall" and his plan to withdraw at some point from NAFTA.
If this large amount of steel isn't being shipped to its largest importer where is it going? This important question can only be answered by speculation so far. There are some chances it could end up in militant states, like Russia and North Korea, or perhaps benefit an industrializing society, or give many countries the boost it needs to pass the United States in development. Though not all the outcomes are bad they create a certain risk and in this case, the risk negatives outweigh the possible positives.