The Last Straw
Student Demand Change from Government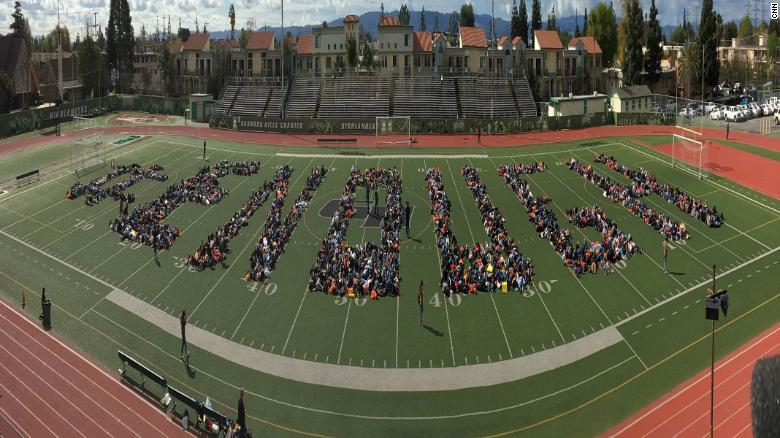 Thousands of students across the nation have walked out of class as part of a massive national protest on gun violence spurred by a Florida high school shooting that left 17 dead.
In honor of the students who were killed in the Florida school shooting, some participants read the names of the victims while others stood in silence in the form of protest. In the Granada Hills Charter High School in Los Angeles, students laid on the football field to spell out the silence they kept for so long: "Enough" In Maryland, students help pictures of the victims. At Columbine High School in Colorado, the site where, 19 years ago, was one of the first mass school shooting, students filled the soccer field and let go 17 balloons for the each of the 17 victims in Florida. These protests manifested in major cities, smaller towns and communities across the country such as New York, Washington, Pittsburg, PA, Seattle, etc.
These walkouts demonstrated the power and influence the young people raised on social media. Students involved in the protest have demonstrated their anger and frustration with the adults and political leaders who they believed have done more harm than good.
These students are emphasizing to their political leaders, Democrats and Republicans, to take action and shift their focus on gun control. Quoting from CNN, "This is not a matter of left versus right. This is a matter of public safety," said Cate Whitman, junior at LaGuardia High School in New York. "We're all working together, which is something we haven't seen form the adults in a very long time."
Emma Gonzalez, a senior at Marjory Stoneman Douglas High School, made her voice be heard at a gun control rally in Fort Lauderdale. Emma Gonzalez manifested her anger towards the people of government days after the Florida Parkland shooting by asking how much are people worth to President Trump. "If you don't do anything to prevent this from continuing to occur," Emma stated "that number of gunshot victims will go up and the number that they are with will go down. And we will be worthless to you."
These powerful statements made by the young generation have demonstrated the power and determination that they have. These protests for gun control laws was in honor for the 17 victims in Florida and for the future generations to reduce this kind of violence.
Resources:
National School Walkout: Students demand new gun laws
Florida student Emma Gonzalez to lawmakers and gun advocates: 'We call BS'
Thousands of students walk out of school in nationwide gun violence protest