Students Nationwide Take a Stand for Gun Control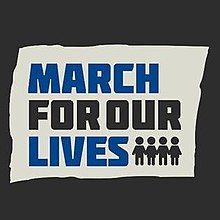 Students returned to Marjory Stoneman Douglas High School on Feb 28, only two weeks after the tragic shooting that left 17 dead. The students returned to armed police units surrounding the school, therapy dogs going up and down the hallways, and cameras from every major news station. What they didn't return to was tighter gun laws that would ensure such an event wouldn't happen again.
Following the Parkland shooting, there have been many protests, and the discussion of gun control has come up on every news network in the nation. It's sad that such an issue has become clockwork. A school shooting occurs in the national followed by national outrage. This outrage is addressed by politicians however in not too long it loses the public interest until the cycle starts again with another shooting. This time however, the victims and survivors are taking a stand through social media and organizing walks and movements for change. The issue has received much more cultural recognition through the kids understanding of the internet and how to use it to keep the attention and pressure on politicians.
With the continued shootings throughout the country, it is time that we look for a solution. Whether or not you agree with the idea of limiting automatic weapons, there is no doubt that something must be done to ensure the safety of kids in school. Since Sandy Hook there have been 438 people shot in 239 school shootings nationwide with 138 deaths (Source: Gun Violence Archive). The danger that is present in school regardless of the cause in unacceptable. The idea that there is no change that needs to be made is absurd. Hoping that as time goes on conditions will get better is an ideology we should not adopt when it comes to children feeling unsafe going to school.
As many push for a ban, a stance pushed by those resistant to change is that the gun law won't keep them out of the hands of people. The idea that those who really want guns will just break the law and buy them from those who already have them. This idea was presented by Marco Rubio while he was one of the first to step up and defend our current gun laws. The issue with one of our Senator saying this is that making laws is his job. You don't make laws content with the idea that people will not follow them because that's the whole point of laws. A US Senator should not ignore a major issue in the country because he doesn't think that people will follow the law if he passes it. If you do not think you are a strong enough voice to put laws into place then what are you doing as one of the countries senators.
One of the main proposals for safer schools involves the banning of assault weapons. Many groups of people including the NRA have been opposed to this ban saying that it is not the solution and banning assault weapons wouldn't be effective. The 1994 ban of automatic weapons however, would show the contrary. The ban was on 18 models of assault weapons and banned firearms with military features such as a flash suppressor or a bayonet mount. The ban also included a ban of high capacity magazines that could hold more than 10 bullets. This ban lasted for 10 years from 1994-2004 and in this period 12 incidents of mass shootings occurred resulting in 89 deaths. Following the ban from 2004-2014 we saw 34 incidents resulting in 302 deaths (Source: Washington Post). As we've learned from the past, a ban would be beneficial to the country as shown from the massive increase in deaths after the ban was lifted.
With the increase in Violence all the way from Las Vegas to Parkland, there is a change that needs to happen. An assault weapon ban would be beneficial to the country and show that we are committed to a positive change for our future. There is no person in the country that should need an assault weapon to defend themselves or their family. It is an unnecessary type of weapon that does more harm than good and is creating an unsafe environment for our kids to grow up in. There is a change that needs to happen in our country and its important that everyone takes a stand in supporting protests such as March For Our Lives on March 24th. Every person should write to their congressman and stand up for what they believe will help make a safer tomorrow.