It's Winter Wonderland Time Again!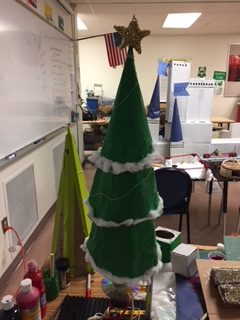 Gabrielle Franklin, Staff Writer
December 8, 2017
Following an old Chapin tradition, the POE magnet class prepares their Rube Goldberg projects with a winter holiday twist. For those of those who are new to Chapin, you may be wondering: What is Winter Wonderland?
Winter Wonderland is a project where a series of mechanisms that trigger an event, described as a Rube Goldberg machine, that are designed into a winter holiday theme. The theme varies among eight Principles of Engineering class periods and are run, designed, and presented by the sophomore class. When asked about Winter Wonderland, POE magnet students defined it as:
"Winter Wonderland is a complex, yet simple, overly complicated set of machines that are designed to put on a simplistic, repetitive show," says Michael Gunnison, sophomore.
Laura Felicano-Soto, sophomore, describes it as, "Winter Wonderland is a second-year Engineering project in which individual class periods are competing against each other in mechanic and creativity."
As Laura Felicano-Soto said, the class periods in Winter Wonderland are competitive competing for places. In order to beat other classes, students vote on for a theme that varies per POE period, make a plan, build mechanisms, and decorate their board. Some of the themes are this year are as follows: The Nutcracker, Marvel, Disney, Monsters Inc., Ski Lodge, among others.
For POE students, the process of creating this project is fun. For each student is a different favorite part of the Winter Wonderland is their favorite. Some of the students favorite include:
"My favorite part is watching everyone try to figure everything out as we put it all together and build up our machines," said Michael Gunnison, sophomore.
"My favorite part of about Winter Wonderland is adding little intricate details that makes the 2-D world we have created come to life," commented Laura Felicano-Soto.
Witness their hard work on December 12th in the main rotunda!