How To Make Strawberry Short Cake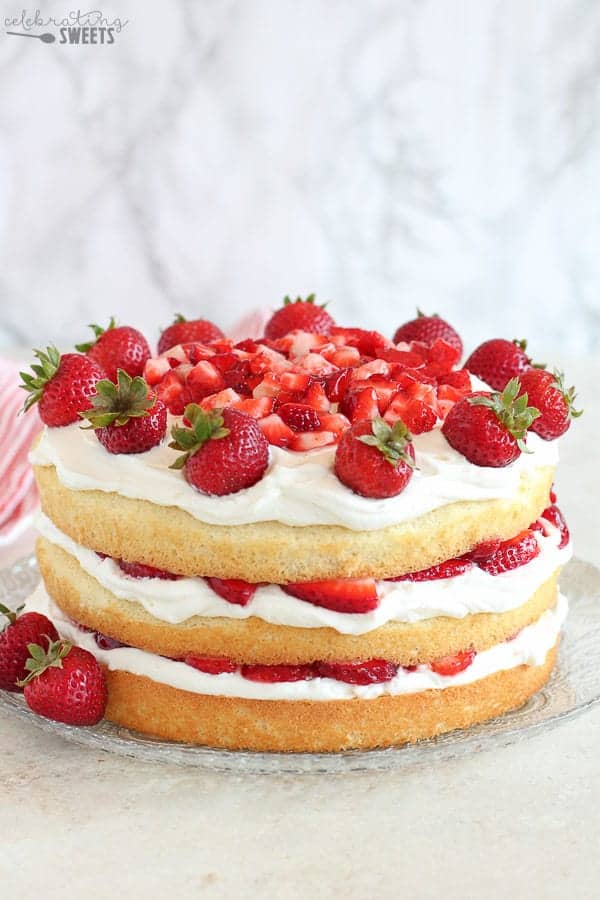 Strawberry shortcake– completely homemade– is easier than you think. Skip the store-bought biscuits and whipped cream loaded with who-the-heck-knows-what and have fun making it at home. The biscuits come together with butter + flour + sprinkle of sugar + milk. That's literally about all you'll need. Then load 'em up with fresh strawberries and home made whipped cream that, again, is so simple. If you can reach for store-bought whipped cream in the dairy aisle, you can make fresh whipped cream at home.
I hope I'm not overwhelming you with all this homemade goodness– I promise it's all SO simple. And that's what spring is about, right? Simple, happy, pure homemade goodness that celebrates the season's fresh flavors.
Make the biscuits in 4 steps:
Cut butter into dry ingredients.
Add milk and stir.
Cut into shapes.
Bake
To cut the butter into the dry ingredients, you can use either a pastry cutter or food professor. You'll also need a biscuit cutter. Remember: do not twist the cutter. Press the cutter down into the dough firmly WITHOUT twisting it. Why? Twisting it will seal off the biscuit edges, preventing the biscuits from rising.
I recommend going heavy on the whipped cream dollop because you know it's the best part!
Strawberries + Whipped Cream
6-7 cups quartered strawberries
1/4 cup + 2 Tablespoons (75g) granulated sugar, divided
1 teaspoon pure vanilla extract
1 cup (240ml) heavy cream
biscuit
3 cups (375g) all-purpose flour1
1/4 cup (50g) granulated sugar
2 Tablespoons baking powder (yes, Tablespoons!)
1 teaspoon salt
3/4 cup (180g) unsalted butter, cold and cubed
1 cup (240ml) buttermilk2
2 Tablespoons (30ml) heavy cream (or buttermilk)
coarse sugar, for sprinkling
Start with the strawberries: Stir the strawberries and 1/4 cup (50g) granulated sugar together in a large bowl. Cover and set in the refrigerator until ready to use. This time allows the strawberries to release their delicious juices.
Make the biscuits: Preheat oven to 425°F (218°C). Mix the flour, granulated sugar, baking powder, and salt together in a large bowl or in a large food processor. Whisk or pulse until combined. Add the cubed butter and cut into the dry ingredients with a pastry cutter or by pulsing several times in the processor. Pulse until coarse crumbs form. If you used a food processor, pour the mixture into a large bowl.
Pour buttermilk on top. Stir everything together until just about combined– do not overwork the dough. The dough will look like shreds and be very crumbly. Turn the dough out onto a work surface and gently mold it together in a ball using your hands. Gently flatten until it is evenly 1/2 inch thick. Cut into 3-inch circles. Re-roll any scraps until you have about 12 biscuits. (I didn't re-roll my scraps– that's why you only see 9!)

Arrange in a 10-inch cast iron skillet or close together on a lined baking sheet. (Make sure they're touching– see photo above.)
Brush the tops with 2 Tablespoons heavy cream (or buttermilk) and sprinkle with coarse sugar. Bake for 15 minutes or until biscuits are golden brown on top. Remove from the oven and allow to cool for 10 minutes before assembling.
Make the whipped cream: Using a hand mixer or a stand mixer fitted with a whisk attachment, beat the heavy cream, 2 Tablespoons granulated sugar, and vanilla on medium-high speed until soft-medium peaks form, about 3 minutes.
Slice the biscuits in half and layer with strawberries and whipped cream. Serve immediately.

Make ahead tip: Each part of this recipe can be prepared ahead of time. Make the biscuits up to 3 days in advance and store covered tightly at room temperature– or freeze for up to 3 months. Thaw completely before using. Prepare the strawberries in step 1 up to 1 day in advance. Prepare the whipped cream up to 1 day in advance. Store both in the refrigerator.