Hungry Husky: Chicken Scampi
Hang on for a minute...we're trying to find some more stories you might like.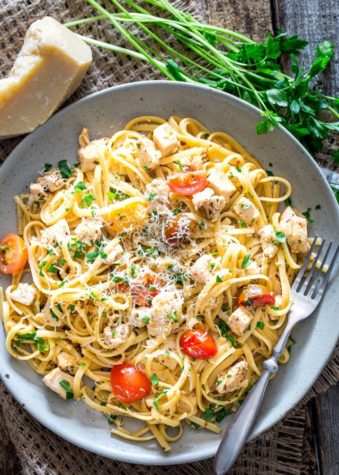 Ingredients
6 thin cut chicken breasts
1 cup flour
Seasoned salt or creole seasoning or salt and pepper
2 tbsp. olive oil
4 cloves garlic, finely chopped
1 green, 1 yellow, 1 red bell pepper, sliced
1 medium red onion, sliced
1 cup heavy cream
½ cup milk
½ cup shredded parmesan
12 oz. angel hair
Instructions
Boil pasta until al dente.
Cut chicken breasts into thirds.
Season chicken.
Place flour in a shallow dish and season with 1 tsp seasoned salt.
Dredge chicken in flour.
Heat 1 tbsp. olive oil in large skillet.
Place chicken in skillet and cook over medium high heat for 4 minutes. Flip and cook for 3-4 more minutes. Remove to a plate.
Add 1 tbsp. oil to skillet.
Add peppers and onions. Season with salt and pepper. Sauté for about 5 minutes.
Add garlic and sauté for a few more minutes.
Add cream, milk, and parmesan. Bring to a simmer.
Add chicken and let simmer for 5 minutes.
Mix in pasta tossing to coat well. Taste to season and serve
Review: To my surprise, this dish actually came out pretty good. The first time my aunt made this I was skeptical. Just by looking at it I thought that it wasn't going to have flavor because I couldn't see any spices. My aunt hid the peppers underneath the noodles and the first bite was a shock. I was amazed by how good it was and how I have never had this dish before. Definitely recommend giving this chicken scampi a try.