Frosted Sugar Cookies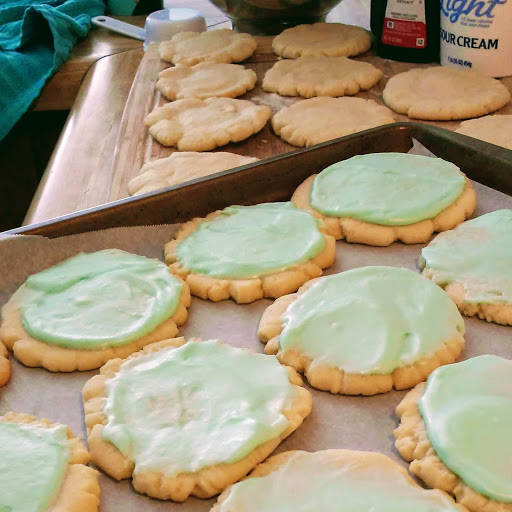 Alise Sousa
March 26, 2019
Hang on for a minute...we're trying to find some more stories you might like.
"These are THE best sugar cookies," says Ana Cantu, older sister, and baking enthusiast, "and I don't even like frosting, but I like this frosting." Most people's only experience with frosted cookies is of the sad store-bought variety. Children eat them enthusiastically simply because — cookies! — but frankly, the store-bought kind is often stale and rather flavorless, or even worse, sickeningly sweet. They'll do in a pinch, but such cookies leave much to be desired. Thankfully, this recipe is different. These are soft and sweet with a slightly tangy flavor. And they have managed to change the opinions of even the staunchest frosting opponents in my family!
 Sugar Cookie Recipe
Ingredients:
1 cup butter (softened)
3/4 cup vegetable oil
2 cups sugar
2 eggs
1/4 cup light sour cream
1 tsp vanilla extract
1/2 tsp almond extract
1/2 tsp baking soda
1 tsp salt
5 1/2 cups flour
Steps:
Preheat oven to 350°F. Place butter, oil, and sugar in mixing bowl, and use the mixer to cream them. Add the eggs, sour cream, vanilla, and almond extract. And stir the ingredients until well mixed.
Add your baking soda, salt, and flour to your original mix and stir by hand until you get a soft dough.
Get out your cookie sheet and cover the inside with non-stick parchment paper. Start rolling your dough into balls roughly the size of a golf ball. Evenly space them with about a 2-3 in. space between each of the balls. Lightly grease the bottom of a glass with oil and gently squash the dough balls with it until their about a 1/2 inch thick.
Bake them for 8-10 minutes. And it's important to let them cool on the cookie sheet for another 5 minutes.
Frosting
Ingredients:
1/2 cup butter softened
3/4 cup reduced fat sour cream
2 pounds powder sugar
food coloring (if desired)
Steps:
 Whip the butter with a stand mixer at medium speed until light and fluffy.
Add food coloring (optional). And mix for another minute, gradually adding powdered sugar a cup at a time until the frosting is stiff. Make sure to check the consistency as you go along, so you don't end up using more sugar than absolutely necessary.
Frost cookies, and (I prefer to) place them in fridge for a while so the frosting can harden.
Recipe From: http://www.everydayjenny.com/copycat-swig-sugar-cookie-aka-the-best-sugar-cookies/