Girls Relay Team Break Two School and City Records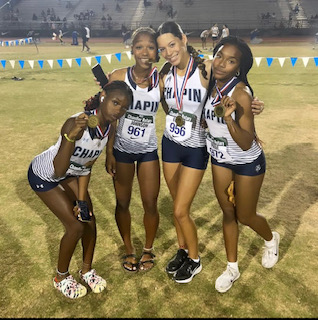 The track team traveled March 24th – the 27th to Phoenix, Arizona. They competed in the Chandler Rotary Arizona Track Meet at Chandler high school. Caidence Johnson, Morgan Little, Maliyah Pride, and Samadhi Foster broke the school and city record for the 4×100 meter relay and the 400×200 meter relay. They broke the 4×100 meter relay with a time of 47.5, coming in 2nd place. As well the 4×200 meter relay with a time of 1:41.53, coming in 1st place.  
"It was much different competing in Arizona because of the amazing competition there so we all knew we had to exceed expectations," said junior Caidence Johnson 
The girls were relieved with their performance because they surpassed where they thought would be in the season. 
"It felt amazing to break the record and was just overwhelming and great" said junior Samahdi Foster "It is comforting knowing that we are doing much better than we expected" 
Coach Gomez and the girls went into both of the relay races with a good and positive mindset. 
"We did expect to break the record and knew we would all come through to make it happen because we have been working hard" said Junior Morgan Little  
Coach Gomez is extremely proud of the girls! 
"We have been working very hard since January," Said Coach Gomez "They deserve it all because they put in so much time and are so dedicated, I am extremely proud of the girls and I'm grateful that I get to work with them." 
Running in a relay team isn't easy and there are certain things the team must do to be successful. 
"The most important thing is to have fun" said Samadhi Foster "As well the bond that you have with your relay team is important because you must trust the girls when passing the baton around the track" 
Since 5A Districts, Area, Regionals, and even State are around the corner, they have big goals that they are hoping to accomplish.  
"I hope we can go as far as state, and if we do the goal is medal there in Austin, Texas, "said sophomore Maliyah Pride "If we keep on practicing and putting in work, then I know that we can all do it!"