Spring football schedule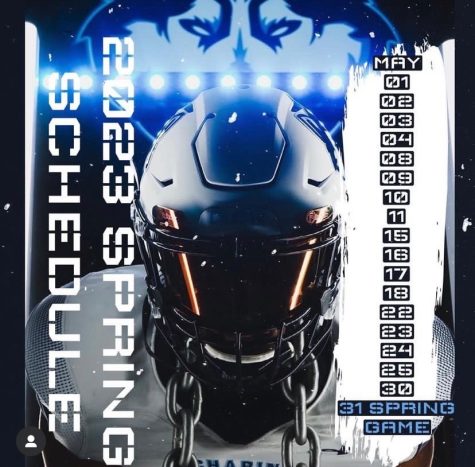 Spring football is pre-season for high schoolers . This determines  what they need to work around to create a good varsity and junior varsity team for the fall season. This consist of the whole football players in the organization of Chapin High school.
"I feel like this shows us where we stand as a team heading into summer pre season," sophomore Nathan Herndon said.
This consists of two teams which are defense & offense. This includes hitting drills, conditioning, and weight room.
"I personally love the weight room cause it's a great way to show your strength and push you to your limits," sophomore Francisco Marin said.
A total of 17 practices and one scrimmage is basically the last practice and the official game, consisting of all offense against defensive players on the same team.
"I feel like the game is going to be like any other practice without question i'll still try my best to perform to full potential and of course put on a show," junior Jovanie Barrios said .
Offense is a group of 11 individual that play a role to score touchdowns. A touchdown is when the ball gets to the end zone which leads to 6 points given and there's an extra play which is the field goal which gives you 1 more point.
"I feel like offense is key to the game because its what scores us point while using different varieties of plays and lets defense get breathers while we are up because they don't have to worry about defending the objective," sophomore Brandon Ortega said.
Defense is a group of 11 players who are trained to stop"the offense" from scoring points which is defending the "objective" end zone.  Defense is the group on the field who create plays to irrupt the play which the offense is trying to use to score.
"Honestly I enjoy destroying the hard work they put into the plays, it's all love cause at the end of the day we are on the same team," sophomore Atamu Erickson said.
This year "Chapinhuskiesfb" on instagram asked for student equipment managers which benefits the football team. The managers record film, pick up equipment ,and have future opportunity in scholarships.
"I signed up because I love football itself and also because my cousin is part of the team so I would not mind helping his team. I also just think its a fun experience because I get to learn football and how to film and certain plays," manager sophomore Stephanie Torres said.
If the school agrees to do spring ball it is extra practices for them going into the season. It allows for the team to be solid once it officially starts.
"We build chemistry on and off the field during spring ball because we spent countless morning together playing the sport we love its basically like our second home," junior Hunter Standerfer said.