Field Trip to the Chihuahua Stadium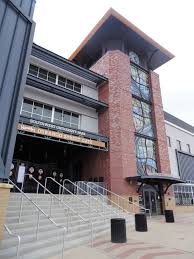 On Tuesday November 19th the sport's marketing class in Chapin went to the chihuahuas stadium. While they were there, they learned many things from the history of the stadium and promotion and community relations.  
      "I think it's cool to go to the stadium and learn more about how marketing works." senior student Tatiana said. 
   The stadium itself was built in 2014 and took only one year to build. It was made to look like it has been there for a long time and it was built to match its surroundings. The stadium is also called the dog pound by many people. It has 7,500 seats but has a capacity of 10,000 people. Since it is a literally desert in El Paso, they have special grass for the field called Bermuda grass 
   "The stadium was built with brick so that it could match its surrounding with the other buildings." Kate Lewis said. 
   Promotion and Community Relations is led by Andy Imfeld, Grant Gorham and Kate Lewis. They talked about how there are many promotions they do to get people to come. They usually do fireworks ever Saturdays and many giveaways. They also do theme nights at the stadium including Youth Baseball night, Selena night and Bark at the Park. For the community they have the Chico program. He had five hundred appearances in 1 year! He goes too schools mostly for Anti Bulling, Career Day, Red Ribbon Week, etc. The other team is the Video Boys. They work on social media and assist in corporate partnership relations. And they also produce content for special events. 
   "Are biggest promotion being probably the fireworks. They bring in the most crowd." Andy Imfeld said.