El Paso breaks COVID-19 records
Refrigerated trucks used to store the deceased
COVID-19 cases have broken multiple records and generated an overload of death in El Paso. Morgues are full and are holding loads of bodies in refrigerated trucks. 
Rudy Alvarado, a father of two, thinks the number of COVID-19 cases and hospitalizations display how little we understand about the virus "because if we did then we'd be able to emplace really good protection measures." 
"Because we still don't understand it, we can't implement those measures," Rudy said. "It's still spreading like wildfire out there, which then leads to the increase in hospitalizations and it's just a terrible situation because it has a ripple effect on everything else. Some people that just want to go in for routine medical care, can't really get that medical care because a lot of the resources are dedicated strictly to COVID." 
Hospitalizations are also concerning Shara Parthemore, a mother of three. 
"It gives me a little bit of anxiety sometimes," Shara said. "especially with having a family." 
COVID-19 creates fear, such as when Freshman Kennedy Stone's grandmother was infected.  
"My grandma had it, but she recently tested negative, so she doesn't have it anymore," Kennedy said. "I was scared because she's older and she has health problems, but whenever I heard she didn't have it I was relieved." 
However, contracting COVID-19 before having the knowledge of what it is, does not have the same effect. Shara Parthemore recalls being sick for weeks in February, along with some of her friends, after attending a women's conference at her church, and believes she may have caught it then. 
"I didn't know what it was," Shara said. "I thought it was just a bad cold I had picked up, and I do battle seasonal allergies so I thought it could have been a combination of allergies and then picking up somebody's cold or something like that from the other conference. So, I wasn't scared because I didn't know what it could've been and all that has come from learning more about COVID."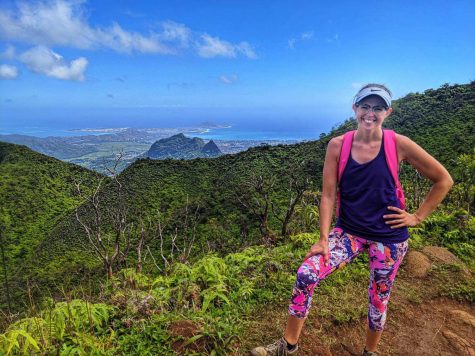 David Parthemore, husband of Shara Parthemore, views the refrigerated trucks that hold the deceased as "a temporary solution to an immediate problem." 
"I think it's just an idea," David said. "It was someone's quick fix and it caught on because no one else knew what to do. So, I don't look at it as disrespectful, it's just something that we have to do." 
Shara agrees that the refrigerated trucks are not disrespectful, and Rudy says it shows "how serious the situation is." 
"I think it's unfortunate," Rudy said. "but at the same time there's so many people dying so fast that the actual facilities that hold bodies can't keep up with the amount of bodies that are, basically piling up. I think they're doing what they can; like I said it's pretty unfortunate." 
However, others think the idea is strange. 
"No," Kennedy answered unsurely when asked if she thinks the refrigerated trucks are a good idea. "but you just have to do what you have to do, but it's just a little weird." 
To slow the spread of COVID-19, Rudy believes people need to take care of themselves. 
"If you really look into it, a lot of people that are affected the most have underlying health conditions or are old," Rudy said. "and a lot of the underlying health conditions are not genetically caused, they're usually lifestyle caused. If you look at it a lot of people with diabetes or obesity, they suffer the hardest from COVID, besides the older people, which are things that people themselves can take care of by living a healthy lifestyle. Then, for those that can't, the first thing they need to do is just practice good hygiene."