Choosing between plastic or wood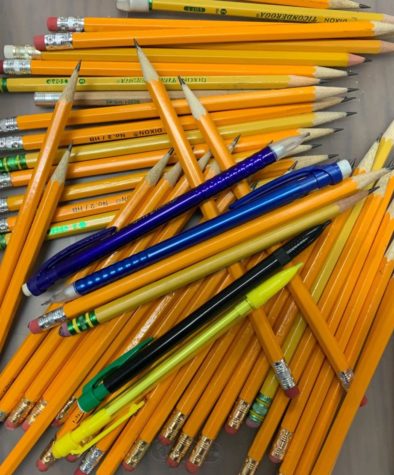 It's the beginning of the year, students go to the store to purchase supplies for classes. But when they go to
the writing utensil section they're stumped. They are greeted by two types of pencils, one is made of
plastic, and the other is made of wood.
During classes, people must have a pen or pencil to write with. But which pencil is better, mechanical or
wooden.
"I think wooden pencils are superior," senior Ryo Harris said. "They are overall more reliable because
they last longer and are cheaper to buy."
It would seem that wooden pencils are cheaper and much more disposable. You can buy a pack of twenty
wooden pencils for only a few dollars while a pack of twenty mechanical pencils can cost ten dollars.
According to students and teachers alike, If you lose the mechanical pencils, that's just money down the
drain. But some people would disagree.
"I prefer mechanical pencils," German teacher Juan Piñon said. "If you take care of it, it can last a
lifetime, and the pencil leads are cheap to purchase"
Pencil leads for mechanical pencils are usually a dollar and a half for a pack of 12. According to a local
store vendor, each piece of lead is the equivalent of a single pencil, meaning that you're practically paying
for a pack of pencils for a cheaper cost. They are also convenient to use because they don't need to be
sharpened or maintained.
Environmentalists also say that wooden pencils are better for the environment. "While plastic and rubber
can take years and even decades to break down. Wooden ones degrade at a much faster rate," economics
teacher Juan Guerrero explained.
Despite this people seem to not know or simply don't care about the environmental aspect of pencils.
They just use what they can get ahold of
"I like both," senior Josh Grider said. "They both have there pros and cons, but at the end of the day what
really matters is your personal preference."