EPISD Students Get an Apple Upgrade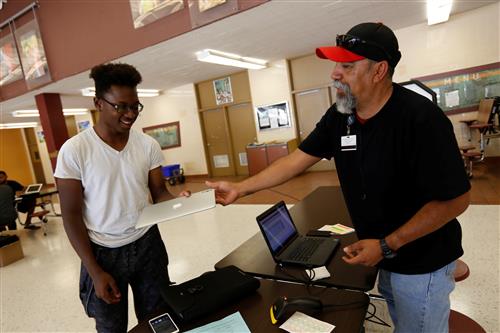 A sleek, lightweight design with a clean white look. They have new SSD drives and boast a twelve-hour charge on their newer models. The MacBook Air is now in the hands of EPISD students, and they can't stop talking about them.
EPISD allowed for some of the new budget from the bond to be spent on new Macs. Many students were not expecting the switch to Macs, as the previous two models of laptops given to students had been HP however, the district was very excited and looking forward to the new technology.
When asked about the reason for the switch, Tim Holt, executive director of Blended Learning, said, "the primary reason that the PowerUp Committee chose Macs was that they were looking at value for our students and our district beyond just the initial cost." The question that he said was asked by members of the committee was, "Which of all these devices we're considering would be most likely to last? 3 years? 4 years?  5 years?"
The new price tag that came with the Macs did not only include the new computers, but also the attention that was received from media outlets, such as KFOXTV. According to Holt, the popularity and visual appeal gained from the district was not the reason for the purchase but was an added benefit.
"Now, does having a Mac make coming to a school more attractive? If that is a side benefit of the purchase, then that is icing. Really, we wanted what was a good value, as well as what was a best fit for our students," Holt said.
With all the new types of technology that EPISD students are beginning to receive towards their education, this is only the beginning of moving schools into a more technological future.
            "I hope that no matter what device a student has that they take care of it, practice good digital citizenship with it, and use them to good academic decisions. The district has provided students with a variety of digital tools from laptops, to Office 365, to Schoology, to Atomic Learning. All of these are purchased to help students in class. I hope everyone uses these to their full potential," Holt said.